Unsafe Words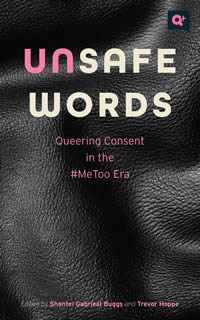 PRE-ORDER NOW: Queer people may not have invented sex, but queers have long been pioneers in imagining new ways to have it. Yet their voices have been largely absent from the #MeToo conversation. What can queer people learn from the #MeToo conversation? And what can queer communities teach the rest of the world about ethical sex? This provocative book brings together academics, activists, artists, and sex workers to tackle challenging questions about sex, power, consent, and harm. While responding to the need for sex to be consensual and mutually pleasurable, these chapter authors resist the heteronormative assumptions, class norms, and racial privilege underlying much #MeToo discourse. The essays reveal the tools that queer communities themselves have developed to practice ethical sex—from the sex worker negotiating with her client to the gay man having anonymous sex in the back room. At the same time, they explore how queer communities might better prevent and respond to sexual violence without recourse to a police force that is frequently racist, homophobic, and transphobic. Telling a queerer side of the #MeToo story, Unsafe Words dares to challenge dogmatic assumptions about sex and consent while developing tools and language to promote more ethical and more pleasurable sex for everyone. Pre-order your copy now!
The War on Sex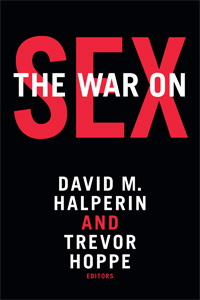 NOW AVAILABLE: The past fifty years are conventionally understood to have witnessed an uninterrupted expansion of sexual rights and liberties in the United States. This state-of-the-art collection tells a different story: while progress has been made in marriage equality, reproductive rights, access to birth control, and other areas, government and civil society are waging a war on stigmatized sex by means of law, surveillance, and social control. The contributors document the history and operation of sex offender registries and the criminalization of HIV, as well as highly punitive measures against sex work that do more to harm women than to combat human trafficking. They reveal that sex crimes are punished more harshly than other crimes, while new legal and administrative regulations drastically restrict who is permitted to have sex. By examining how the ever-intensifying war on sex affects both privileged and marginalized communities, the essays collected here show why sexual liberation is indispensable to social justice and human rights. Order your copy!
Punishing Disease
NOW AVAILABLE: From the very beginning of the epidemic, AIDS was linked to punishment. Calls to punish people living with HIV – mostly stigmatized minorities – began before doctors could even name the disease. Punitive attitudes towards AIDS prompted lawmakers around the country to introduce legislation aimed at criminalizing the behaviors of people living with HIV. Punishing Disease explains how this happened and with what consequences. Now that the door to criminalizing sickness is open, what other ailments will follow? With lawmakers moving to tack on additional diseases such as hepatitis and meningitis, the question is more than academic. Order your copy today!
Dissertation
In August 2014, I completed my PhD in Sociology and Women's Studies at the University of Michigan. My dissertation examined the application of HIV law in Michigan, particulary the felony disclosure statute that makes it illegal for HIV-positive people to have sex without first disclosing their HIV-positive status. You can read the entire dissertation here. In addition, articles based on it are published in Social Problems, Social Science & Medicine, and Punishment & Society.